Spend your summer with SBGB

August, 2015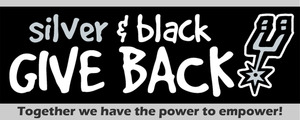 In This Newsletter
SBGB donates funds raised for Flood Relief
The 2015 Silver Dancer Auditions Finale was live at the Arneson Theatre and there was a lot more to celebrate than the new dancers being chosen! Silver & Black Give Back donated all of the proceeds from the event to the Greater San Marcos Youth Council for Flood Relief in Hays County, raising a total of $2,500!

Five hundred fans packed the Arneson Theatre on July 26 to spectate and cheer on their favorite dancers as they performed on stage. Each one of those fans donated five dollars upon entrance that went straight to the Greater San Marcos Youth Council.

Celebrities and local personalities joined the judges panel to decide which 16 of the 30 (31, if you count the Coyote) dancers would make the team for the upcoming season. After all the dancers performed, Spurs in-arena host Chuck announced which dancers had made the team as they appeared on stage to loud applause.

Congratulations to all of the 2015-2016 Spurs Silver Dancers! To meet the new team, click here.
To check out photos of the auditions, click here.
You can choose the next Fiesta Medal!
Fans have submitted their San Antonio Stars Fiesta Medal designs, and now it's your turn to vote for your favorite. Voting begins August 4th and will be open until Wednesday, August 19. A final count of the Fan Vote will determine the winner, which will be announced on August 21. The winning design will be produced and become the official Stars Fiesta Medal, in which fans can pre-order from August 23 until September 5!

Click here to vote for your favorite design! Voting closes August 19.
Stars' Pink Jerseys to be auctioned off
The San Antonio Stars and Silver & Black Give Back will be auctioning off game-worn pink jerseys after the Breast Health Awarness game on August 8. Tip-off for the game is at 7pm and you can buy tickets here. Proceeds will benefit CHRISTUS Santa Rosa Health System - Mobile Mammography Unit and Silver & Black Give Back. You don't want to miss out on winning an exclusive pink jersey!
Former Team Up Challenge students assist SBGB in funding decisions
This summer, Silver & Black Give Back selected 10 former Team Up Challenge students to serve alongside our executive review committee as part of the Summer Team Up Challenge. These former Team Up Challenge participants helped to decide where Silver & Black Give Back's Summer Team Up Challenge funding would be distributed and will go on site visits to the selected nonprofits throughout the summer.

Each of these students will also receive a $1,500 scholarship toward his or her higher education.

Claire Brown: St. Luke's Episcopal School
Hailey Campbell: International School of the Americas
Natalia Deandra: Construction Careers Academy
Jayci Derby: O'Connor High School
DeVante Donald: Stevens High School
Kathy Garcia: Travis Early College High School
Seth Guerrero: MacArthur High School
Bailey Havis: Tivy High School
Elijah Maestas: Whittier Middle School
Celeste Olvera: Zachry Middle School

On this year's Team Up Day our Junior Review Committee will also serve as liasons around the San Antonio community as each nonprofit hosts their own community service project that day. To find out more about how you can get involved, visit teamupchallenge.com.