The Elements of Creative Writing
with
Joe MILAZZO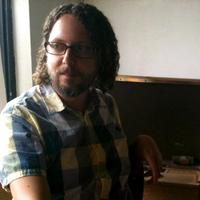 Wednesdays, January 21 - February 25, 2015
6:30 PM - 9:30 PM
The Writer's Garret
10809 Garland Road, Dallas 75218
Special discount codes below for Educators, Garret Mentors / Instructors, Vets, and those impacted by cancer:
Click here
Via both regular in-class writing exercises and reading discussions, this course offers a comprehensive overview on how to build and sustain a writing practice. "The Elements of Creative Writing" is designed to help novice writers appreciate how writing is both art and craft, and to give more experienced writers an opportunity to continue to hone and master essential skills. Participants will have ample opportunities to generate new writing and to participate in group critique. Please note: This course is a prerequisite for many of our other offerings.
Joe Milazzo
is the author of
Crepuscule W/ Nellie
(Jaded Ibis Productions) and
The Habiliments
(Apostrophe Books). He co-edits the online interdisciplinary arts journal
[out of nothing]
and is the proprietor of Imipolex Press. A lecturer in Creative Writing at the University of Texas at Dallas, Joe also serves as the Writer-in-Residence at The Writer's Garret, where he has offered a variety of popular courses over the last six years.
$160 Members.
Early Bird for Members --$20 OFF if registered by THIS Friday
$185 Others.
Audit this course on-line for $40 Members / $85 Others
If you are a Cancer Survivor, or your immediate family has been impacted by Cancer, you may receive this course for FREE using code BigC


If you are a Veteran, you may receive
50% off
with the code
Vet
BOTH of these subsidies are courtesy
of the Texas Commission on the Arts
If you are a WINS Instructor / Mentor, you may take this course for FREE using code
Mentor
If you are a educator, you may take 25% off with code
EDUCATE
; if you are a Garret member AND an educator, you may take 50% off with code
Edmember


BOTH of these subsidies are courtesy
of the National Endowment for the Arts
REGISTRATION OPEN!
Other SPRING 2015
CLASSES & WORKSHOPS
Starts THIS Saturday!
Jan 24, 2015 1:00-5:00 PM
Poets Revising for Inspiration
Wednesdays, Feb 11 - Mar 4, 2015 7:00-9:00 PM
Mondays, Feb 16-Mar 9, 2015 7:00-9:00 PM
Thursdays, Feb 19-Mar 5, 2015 7:00-9:00 PM
Science Fiction(s): Writing with Scientific Ideas
Mondays, Mar 23 - April 6, 2015 6:30-9:30 PM
Something Borrowed, Something Found:
Documentary Writing and Methods
Thursdays, Apr 2-16, 2015 7:00-9:00 PM
Wreck it to Check it: A Crash Course in Fresh Methods, Conceptual Thinking, and Bold Experiments for Writers
Saturday May 30, 2015 1:00-5:00 PM