---
---
Bruce Bowen Jersey Retirement Luncheon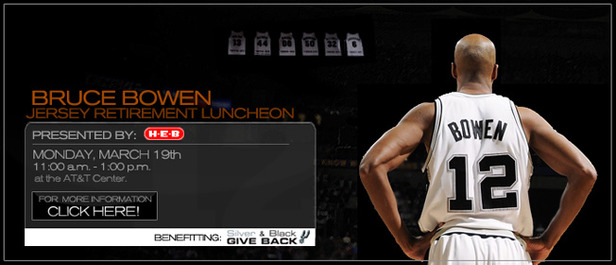 H-E-B presents the Bruce Bowen Jersey Retirement Luncheon, benefiting Silver & Black Give Back, to honor 3-time NBA Champion Bruce Bowen. Guests in attendance will include our current players and coaches and former Spurs. While the luncheon is a fundraiser for Silver & Black Give Back's youth programs, it is also a celebration of Bruce's time on the Spurs' roster - helping to bring home the 2003, 2005, and 2007 NBA Championships.
In addition to the program, there will be a silent auction featuring exclusive experiences and Spurs memorabilia. Check out a few of the items that will be at the luncheon:
- 2003, 2005, 2007 Championship San Antonio Spurs team autographed basketballs from Bruce Bowen's Championship years
- An autographed serving tray by the 2011-2012 San Antonio Spurs, six Spurs wine glasses, 1 set of 6 Spurs wine charms and a $250 gift certificate to Joe Saglimbeni Fine Wines.
- LIVE with the Spurs, a chance to spend time with the Spurs broadcast team as they prepare for a live television broadcast at the AT&T Center: sit court side with the Spurs broadcast team and experience the hustle and bustle of the TV truck.
Preview more auction items here!
Register for the luncheon today! (Silver packages are SOLD OUT!)
---
Want to Travel with the Spurs? Get Your Playoff Passport Today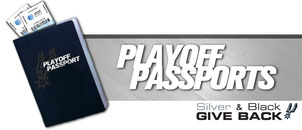 Show your support! Purchase a playoff passport for $100 today. 100% of your donation will benefit Silver & Black Give Back youth programs.
Three Passport Holders will win one of these prizes:
Playoff Road Trip: Two fly with the team to their first away playoff game with two tickets to the game, hotel stay, and commercial flights back to San Antonio.
H-E-B Groceries for a year
Round trip for two anywhere in the continental US: Commercial
The winner will be announced at the Spurs game on March 21st against the Minnesota Timberwolves. Only 500 Passports will be sold!
Click here to purchase your Playoff Passports today!
Special thanks to our Playoff Passport sponsors, Aramark and Book of Free! Together they are giving each passport holder over $1,500 in gift cards.
---
DeJuan Blair Takes the Road Against Team Up Challenge Students at Randolph High School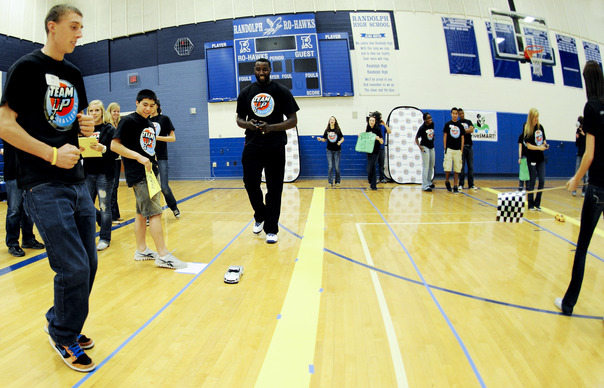 Last week Spurs center DeJuan Blair battled Team Up Challenge students at Randolph High School on a remote controlled car race course. The Randolph High School Student Council's project, DriveSMART, focuses on teaching their peers about the dangers of distracted driving.
DeJuan signed the team's No Text While Driving pledge, and then took to the road where we had to avoid pedestrians, take a drink of water, send a text, put on sunglasses, avoid road kill and more! The students created the course to show how often we deal with distractions while driving.
This is just one of twenty Team Up Challenge projects this season. To learn more visit
teamupchallenge.com
---
Bid Now on the Silver & Black Give Back Online Auction
Support our youth programs and get one-of-a-kind items autographed by your favorite Spurs or Silver Stars players! There are Tim Duncan autographed shoes, a Manu Ginobili autographed Argentina national team jersey, Tony Parker autographed basketball and more. Bid NOW in the Silver & Black Give Back auction.
The auction ends on Friday, March 9 at midnight. Click here to bid today!
---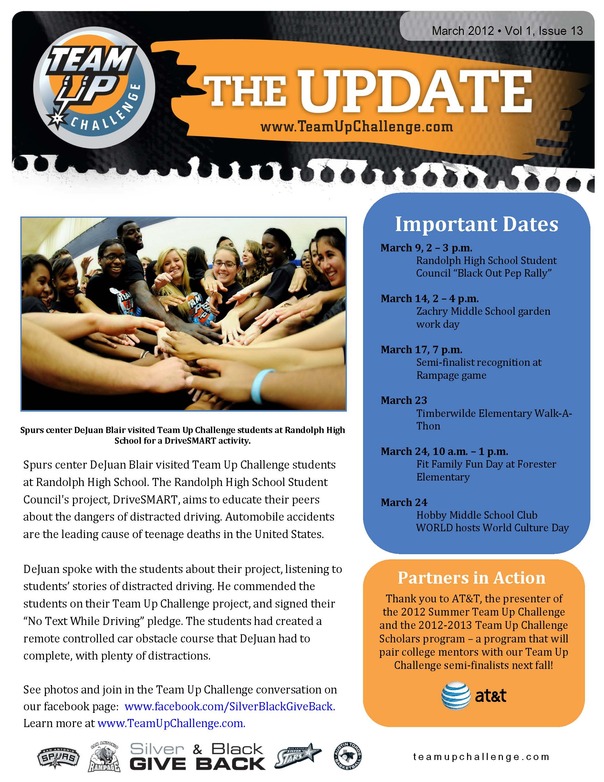 ---
To invest in the Team Up Challenge and our Youth Sports Programs, please click the button below:

---