---
---
Team Up Challenge Students Taught by Spurs Athletic Performance Staff, Tour Practice Facility


Team Up Challenge
students from Forester Elementary's Student Council and Timberwilde Elementary's "Fit for Life" Club spent some time with the Spurs Director of Athletic Performance, Matt Herring, and Spurs Trainer Dice Yamaguchi at the Spurs Practice Facility last week.
The Team Up Challenge students at these schools are working to help their classmates and communities eat healthier and stay active.
The two groups got a brief tour and then were led by Herring in several exercises on the court! The Spurs staff challenged them to go home and teach their classmates and families the exercises.
The clinic kicked off NBA Fit week, and the students had a fantastic time learning how to inspire others to keep moving!
---


Bruce Bowen Jersey Retirement Luncheon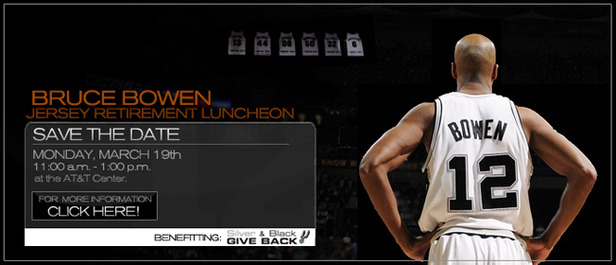 Spurs Sports & Entertainment and Silver & Black Give Back are hosting a jersey retirement luncheon to honor 3-time NBA World Champion Bruce Bowen.
Guests in attendance will include our current players and coaches and former Spurs. They will help us pay tribute to Bruce and the many contributions he has made to San Antonio and our community. While the luncheon is a fundraiser for Silver & Black Give Back's youth programs, it is also a celebration of Bruce's time on the Spurs' roster - helping to bring home the 2003, 2005, and 2007 NBA World Championships.
We hope that you will join us on March 19. The ticket and table information is included on the link below. Due to our compact game schedule, our next Tux 'N Tennies will be our 25th Anniversary Celebration of Silver & Black Give Back during the 2012-2012 season.
The luncheon will help us set the stage for the raising of Bruce's jersey to our rafters during the Spurs v. Minnesota Timberwolves game on Wednesday, March 21.
---
San Antonio Rampage Pucks 'N Paws Game Sets Record for Most Dogs at a Sporting Event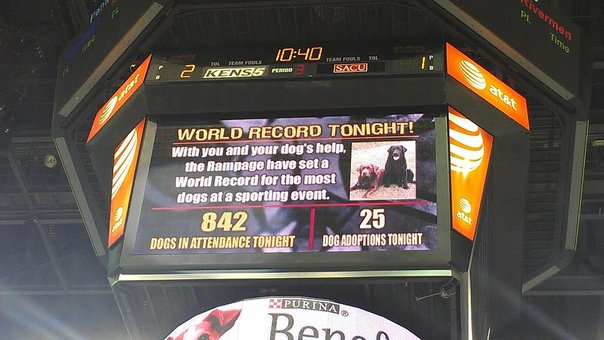 The Rampage welcomed 842 dogs into the AT&T Center Saturday night for their fifth annual Pucks & Paws event. Twenty five dogs were also adopted at the game. Fans were encouraged to bring their dog to the game to set the world record.
The team was required to get at least 600 dogs to attend in order to be considered for a world record. The Rampage will file paperwork and evidence to be recognized as an official Guinness Book of World Record holder.
Team Up Challenge students from Harlandale High School's PAWS club were at the event collecting donations for the Animal Defense League. Students had volunteered with Rampage players Tyson Strachan and Bracken Kearns at the shelter earlier in the week, and collected over 100 raw hides and toys for the dogs there.

---

Support our youth programs and get one-of-a-kind items autographed by your favorite Spurs or Silver Stars players! Bid NOW in the Silver & Black Give Back auction. The auction ends on Sunday, February 5 at midnight. Click here to bid today!
---
San Antonio Rampage Pink the Rink Night



On Friday, February 3, the San Antonio Rampage will dye the ice Pink for their second annual Pink in the Rink Game. A portion of each ticket will be donated to Susan G. Komen for the Cure!
Click here
and enter "Pink" to purchase your discounted tickets to the game.
---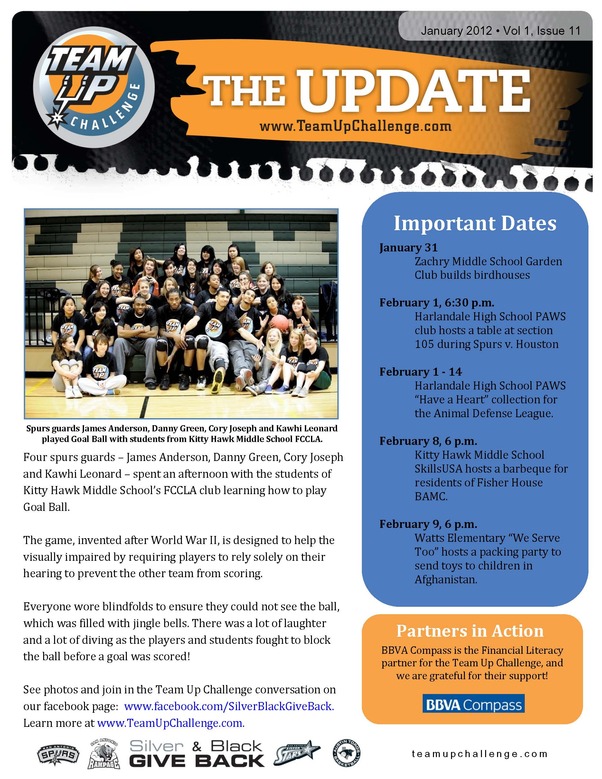 ---
To invest in the Team Up Challenge and our Youth Sports Programs, please click the button below:

---

---
Silver & Black Give Back
One ATT Center
San Antonio, Texas 78219
US