July 15, 2011
Webb elected new TWA President; Officers elected for coming year
Texas Wildlife Association leaders and members elected a new President among its four Officers for the coming year, as well as a new group of Directors, as part of the organization's 2011 WildLife convention in San Antonio, July 7-10.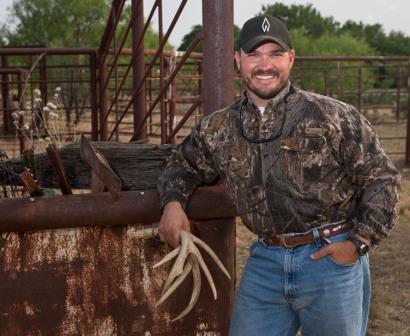 Glen Webb of Abilene was elected President of the Texas Wildlife Association on July 8. He was elected to a one-year term by a unanimous vote by members of the TWA Board of Directors at the Joint Membership and Directors Meeting. Webb succeeds Tina Y. Buford of Harlingen, who served as TWA President for two one-year terms.

The TWA Board of Directors also re-elected Neal Wilkins, Ph.D., of College Station as TWA Vice President and elected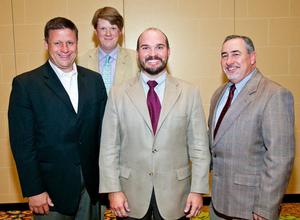 Greg Simons of San Angelo as TWA Secretary and Marcus T. Barrett IV of San Antonio as TWA Treasurer.TWA members elected 52 individuals to the organization's Board of Directors for a three-year term.

Webb is the 14th President in the organization's 26-year history. He previously served TWA as Treasurer for two years and as Secretary for two years.

"Today you have heard my story. Over the last 10 years, I have heard your story. I believe in your story, and I believe in you!" Webb told TWA members and supporters during his President's Address on July 9. "To represent you as the President of this organization is a true honor. Therefore, please know: I realize I have been given a great gift. I recognize my covenant, and I promise I will be a good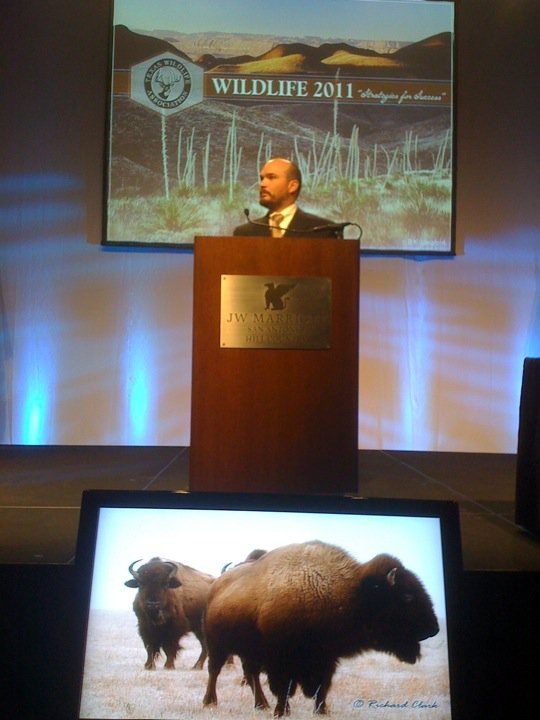 steward."

Webb was born and raised in Abilene, Texas. Webb's education includes a Bachelor of Arts from Texas A&M University, a Master's of Business Administration from Texas Tech University, and a law degree from Southern Methodist University.

He is the owner of Glen Webb, PC, a law firm in Abilene, Texas and Albany Abstract, a Real Estate and Title Company in Albany, Texas. Along with his mother, Becky, and brother, Russell, Webb owns 2 Diamond W Ranches, the family ranch in Throckmorton County, Texas. 2 Diamond W Ranches is a cow/calf and hunting operation and has hosted nine Texas Youth Hunting Program (TYHP) hunts.
WildLife 2011 auction produces record high bid for Desert Bighorn permit
A record auction amount for a desert bighorn ram permit in Texas highlighted the TWA Grand Auction on July 9 at WildLife 2011, the annual convention of the Texas Wildlife Association.

The record high bid of $152,000 for the opportunity to hunt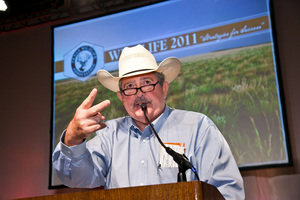 one desert bighorn ram at the Elephant Mountain Wildlife Management Area in Brewster County, Texas, highlighted the TWA Grand Auction in San Antonio and exhilarated the 1000 people in attendance. The previous record auction amount for a desert bighorn ram permit in Texas was $115,000.

The auction item was offered by the Texas Wildlife Association Foundation (TWAF), a 501(c)3 organization. TWAF is donating 90 percent of gross revenue from this auction item to the Texas Parks and Wildlife Department Desert Bighorn Program for desert bighorn restoration, management, and research in the state of Texas. Ten percent of gross revenue from this auction item will be utilized by TWAF to support its charitable, scientific, and educational purposes.

TWA members and supporters participated and actively bid on other terrific auction items in the Grand Auction, as well as on outstanding and unique items in the Outdoor Adventures Auction (Not-So-Silent), and Silent Auction.
$10,000 College Natural Resource Scholarships available for freshmen
The Texas Wildlife Association Foundation (TWAF) and the San Antonio Livestock Exposition, Inc. (S.A.L.E.) have joined forces to offer five $10,000 Natural Resource-Excellence in Education Scholarships in the fall of 2011. The scholarships will be awarded to five freshmen at Texas universities who are majoring in natural resource related field such as agricultural science, wildlife science, forestry, range science, or similar majors.

Completed applications must be postmarked by September 14, 2011, and applications are available here.

"As our population has grown, the strain on our natural resources has grown proportionately," said TWAF Trustee Charles M. Davidson. "Our future depends on our ability to manage our natural resources wisely, balancing the needs of man and nature. It just makes sense to identify our future leaders and support them while they are getting their educations. We all will benefit from their expertise in the years to come."

This is the fifth time that TWAF and S.A.L.E. have teamed up to offer scholarships to future natural resource professionals. In past years, the organizations provided four $10,000 statewide awards, but they are now offering five statewide awards. The program was expanded because of the overwhelming response.












Mark Your Calendar
Wildlife for Lunch Webinar Series
July 21 - Riparian Management
Former First Lady Laura Bush delights TWAF audidence
Former First Lady Laura Bush spoke of her personal passion and interest in habitat and wildlife conservation and applauded the natural resource education impacts of the Texas Wildlife Association Foundation (TWAF) during a TWAF Luncheon on July 8 at WildLife 2011.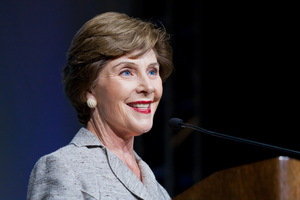 Over 500 attendees packed the ballroom at the JW Marriott San Antonio Hill Country Resort and Spa for the presentation by Mrs. Bush. The former First Lady promoted a new initiative called "Taking Care of Texas."

"Americans have a great tradition of working together with our neighbors and coming up with solutions that we face," she said. "I hope all of you will help us in spreading the seeds of conservation by Texans for Texas by knowing more we can make better choices to protect and conserve our land, water and wildlife."

Click here for a full recap story published by the San Antonio Express-News.
Outdoor classroom a hit for Brigades cadet from Tyler
At 15, Tyler's Will Arnold has a couple of years before he has to come up with a career path, according to the Tyler Morning Telegraph.

Still the Robert E. Lee High School incoming freshman has a couple of ideas: medicine or wildlife biology.

It may be a few years before he gets a chance to hang a stethoscope around his neck and sample life as a doctor.

He has, however, experienced what it might be like to be a wildlife biologist while attending the Texas Buckskin Brigade camp at the Southern Star Ranch in Uvalde County in June.

Click here for the full story.
TWA welcomes new members!
Kevin Barclift, San Saba
Charles Baucum, Anson
Jesse Beard, Lometa
Chad Beavers, Goldthwaite
Chris Birck, Burnet
Ken Blackford, Waxahachie
Lloyd Bratcher, Dawson
Jack Carroll, Brownwood
Thomas Dudley, Zephyr
Richard Duncan, Mexia
David Durant, Menard
Steve Evans, Coleman
Jordan Hicks, Brownwood
Jo Holly-Ranch, Kempner
Larry Lytle, Anson
Latrese Lytle, Anson
David McInroe, Livingston
Danny Parr, Evant
David Putzier, Dripping Springs
Richard Reddout, Corpus Christi
Lance Roasa, Woodland Park, CO
Paul Shuman, Covington
Glen Spenrath, Goldthwaite
AAB Irlbeck Farms, LLC, Tulia
Coward Cattle Company, Gatesville|
Double B River Ranch, Comanche
Wild Wings Ranch, Hermleigh