Texas Wildlife Association - Sighted in and ready for legislation session

February, 2011

February 7, 2011
Texas Senate poised to consider eminent domain reform legislation
The Texas Senate is poised to consider SB 18 as early as February 8 following last week's committee approval of the bill that provides meaningful
eminent domain reform in Texas.

The 6-0 vote by the Senate Committee on State Affairs moved the legislation to the full Senate for consideration. The bill by State Sen. Craig Estes lists over two-thirds of the chamber's 31 members as co-sponsors. Eminent domain reform is a priority legislative issue for the Texas Wildlife Association.
TWA Vice President of Public Policy Kirby Brown provided testimony at the committee public hearing in support of SB 18. He was the second individual called in the first witness panel. The Fort Worth Star-Telegram anticipates the bill's Senate passage in this article.

The TWA Advocacy Center provides up-to-date information on the status on SB 18 as it moves forward. The bill's language can be viewed by clicking here or by accessing the bill in the Issues and Legislation section of the TWA Advocacy Center.
Eminent domain will be one of several key issues outlined at the TWA Boots on the Ground event, Feb. 14-15, in Austin.
TWA members will walk to the Capitol as part of the event
and meet with their state representative and state senator to discuss policy priorities.

Click here for a Boots on the Ground registration form and for hotel information. The Boots on the Ground event is TWA's most important and effective grassroots advocacy effort during a legislative year.
Texas Brigades now accepting applications for its summer camps
Texas Brigades is now accepting applications for students ages 13-17 to attend one of its five summer camps offering wildlife education and leadership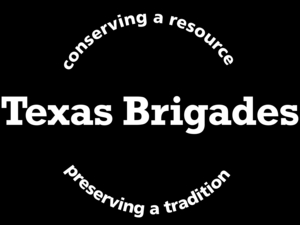 development.

Click here to apply online. Click here to download an application form from the Texas Brigades website.

2011 Camp Dates

South Texas Buckskin - June 5-9, La Bandera, Carrizo Springs

Rolling Plains Bobwhite - June 18-22, Centennial Lodge, Coleman

South Texas Bobwhite - June 26-30, 74 Ranch, Campbellton

Bass Brigade - July 11-15, Warren Ranch, Santa Anna

North Texas Buckskin - July 17-21, Stasney's Cook Ranch
Pronghorn benefit a huge success
The success of the initial Pronghorn Restoration Benefit will enable the release of 200 pronghorn from the Texas Panhandle to the Marfa Plateau later this month, according to organizers.

The January 29 benefit, held at Alpine's Granada Theatre, raised $50,000 to match a challenge grant from two foundations.

"The benefit was a huge success," said Dr. Louis Harveson, professor of Natural Resource Management and director of the Borderlands Research Institute at Sul Ross State University, as well as a member of the Trans-Pecos Pronghorn Working Group. "The Challenge Grant the Dixon Water Foundation and Horizon Foundations provided really helped propel our fundraising efforts. We were able to meet that $50,000 challenge which will net us an additional $50,000 from the foundations."

"Those funds will allow us to bring 200 pronghorn from the Panhandle and then release them onto the Marfa Plateau later this month," added Shawn Gray, Pronghorn Program Leader with Texas Parks and Wildlife Department. "We're currently finalizing our plans for the pronghorn restoration effort. We will then monitor the pronghorn to evaluate if the restoration effort was successful. If everything goes well, we will release another 200 pronghorn in 2012."
QuailMasters offers outstanding hands-on training for 2011 class
QuailMasters is a series of intensive, hands-on training sessions designed to expose participants to the best of the best quail habitat in the state of Texas and make them "masters" of the art and science of quail management.

Applicants for the 2011 QuailMasters program are now being sought. The program is a joint effort of the Texas Widlife Association and the Texas AgriLife Extension Service.

QuailMasters will enhance a participant's decision-making skills relative to three phases of quail management:
Habitat Management
Population Management
People management
Click here for 2011 QuailMasters registration form.
Gov. Perry appoints Scott, reappoints Friedkin, to TPW Commission
Gov. Rick Perry has appointed Richard "Dick" Scott of Wimberley and reappointed TWA Life Member Dan Friedkin of Houston to the Texas Parks and Wildlife Commission for terms to expire Feb. 1, 2017. The commission oversees the Texas Parks and Wildlife Department.
Scott is co-owner of Trans-Global Solutions Inc. He is a member of Delta Sigma Pi and the Boys and Girls Country of Houston Executive Board. He is also a volunteer contributor for the Hays County Future Farmers of America and 4H Club, a lifetime member of the Houston Livestock Show Committee, and a past board member of the Lower Colorado River Authority. Scott received a bachelor's degree from Lamar University.
Friedkin is chairman and CEO of The Friedkin Group. He is a member of the Young Presidents Organization and a board member of the Texas A&M University Caesar Kleberg Wildlife Research Institute. He is also past director of the Houston Zoological Society and a past trustee of the Houston Museum of Natural Science. Friedkin received a bachelor's degree from Georgetown University and a Master of Business Administration from Rice University.
These appointments are subject to Senate confirmation.