Texas Wildlife Association Newsletter

February, 2010

February 23, 2010
Texas Wildlife Association supporting candidates in March 2 Primary
The Texas Wildlife Association is supporting the election of 28 candidates in contested races in the March 2 Primary via a contribution from the TWA Political Action Committee (TWAPAC).
Click here for a full list of candidates supported by TWA in the March 2 Primary.
The list of supported candidates includes Gov. Rick Perry, four candidates for the Texas Senate, and 23 candidates for the Texas House of Representatives. The candidate selections were based on recommendations from the TWA Legislative Committee and approval by the TWA Executive Committee. TWA will provide a complete list of supported candidates in all races prior to the November general election.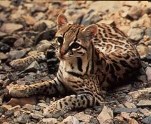 TWA members,
researchers
working to save Texas ocelots
The efforts of Texas-based researchers studying the endangered ocelot and the generosity and cooperation of TWA members in support of those efforts were chronicled in a Feb. 20 article in the Corpus Christi Caller-Times.
Click here to read the full article.
USFWS director passes away
Sam Hamilton, the director of U.S. Fish and Wildlife Service, died Saturday, Feb. 20, after suffering an apparent heart attack at a Colorado ski resort, NBC News reported.
Hamilton, 54, was pronounced dead after being transported off the mountain at Keystone Ski Area. Hamilton, who was sworn in as the agency's 15th director in September, was on a ski trip with friends, NBC News reported.
NRCS accepting applications for Wetlamds Reserve Program
The USDA Natural Resources Conservation Service (NRCS) is accepting applications from landowners interested in wetlands restoration through the Wetlands Reserve Program (WRP). WRP is a voluntary program that provides technical and financial assistance to private landowners and Tribes to restore, protect, and enhance wetlands in exchange for retiring eligible land from agriculture.
Click here for more details.